hello!
First post here, I don't know if this post is meant to be here, but yeah. I thought it'd be nice to share.

OurVoiceBox.sg was present at the Press Conference and Showcase of Super Junior while they were in Singapore! (Even though they were only here for half a day D: )
We've a report over at our web, link below!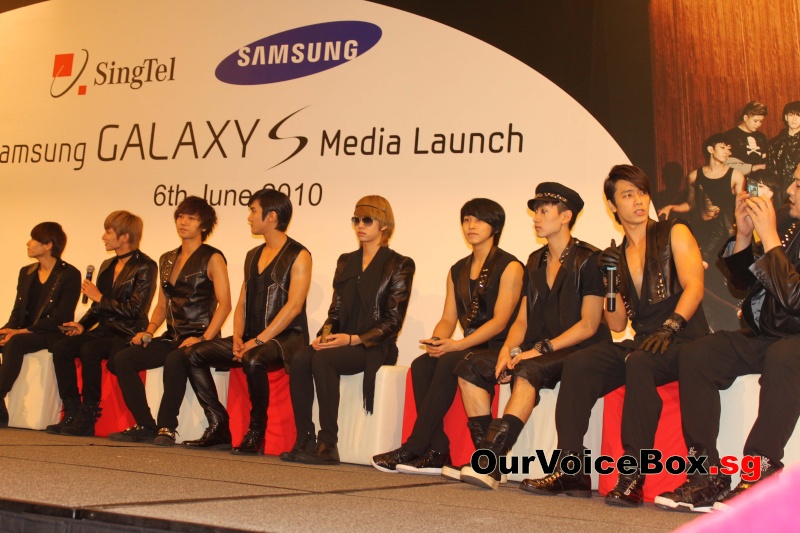 (Look! Shin Dong was taking a photo of Donghae using the phone. It was up on his twitter! xD )
Here to the report for the Press Conference!
I know there are a lot of SuJu fans out there who can't read Chinese,
so here is a little translation!
The famous Korean Boyband, Super Junior was in Singapore for their first time to promote the new Android 2.1 Samsung Galaxy! As their stay in Singapore was short, the fans were all fighting to catch a glimpse of their favorite boy(s)!

When it comes to smartphone, of course you can't miss out Twitter! In the eyes of Super Junior, the Samsung Galaxy S is not only a good mate, it is also a "brother" to them. Some of the members even update their twitter using the Andriod phone! Shin Dong and Donghae also played around with the phone during the press conference!
More pictures on the actual report itself, so do take a look!
I'll be back with report for the SHOWCASE!!
and more photos (hundreds of them!)
and even Video!
Soon to come, I'll be updating you all soon!
Stay tuned!

Love
Stacey from OurVoiceBox.sg